INTRODUCTION | TOUR COMPANIES | INFORMATION | PHOTOGALLERY


In this section you would find the info on tourist itineraries and the description of the complex of services offered.
>> MORE



Reni... The only district in Odessa region the half territory of which is covered with the glassy surface of the lakes...
>> MORE



Bright the Bessarabian culture is! Taste different Southern sunny sorts of wine, hear the talk of different nations! You wouldn't find it anywhere else! Come and see it!
>> MORE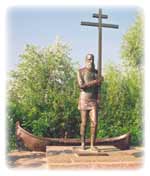 The town of Vilkovo is a unique small town on water. It is the main access to the Ukrainian Danube Delta. The town was founded in the 1st half of the XVIIIth century by the so-called Russian Old-believers or Lipovanians who fled here from the religious prosecutions after the Nikonian dissidence of the Russian Orthodox Church. Even up to this day Lipovanians make up the majority of the population here. They have preserved a lot of their religious traditions. There are 3 churches in the town - one Orthodox church and two Russian Old-believers' Lipovanian churches.

First inhabitants of Vilkovo began to develop the "plavny" (wetlands). It was not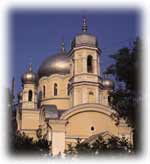 an easy task because to build a house and lay out a garden, they first had to build a small man-made island. They would get the construction materials by digging a canal round the island. Vilkovo inhabitants of the oldest town quarters still live on those small islands. Each of the islands is surrounded by a canal or "yerik" (local name that stands for "a canal"). Roads from house to house there are laid on little foot-bridges and wooden man-made paths. Majority of the local families own a boat. The latter remains the main transportation for those who travel to their family gardens in the Danube Delta.


A Vilkovo house has a special construction. First, a wooden frame is made, and then sheaves of reed are installed in the frame of the house. The inside and the outside of the house are coated with Danube silt mixed with cut reed or straw. The last coating includes sawdust. Such a house construction helps keeping balanced temperature regime throughout a year.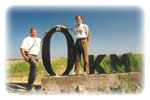 The Head Office of the Danube Biosphere Reserve is also located in Vilkovo. The with rich and unique flora and fauna.

COME AND VISIT THIS UNIQUE TOWN ON WATER, TAKE A TRIP TO THE DANUBE DELTA - ONE OF THE GREATEST IN EUROPE, AND ENJOY THE VIRGIN NATURE OF THE DANUBE WETLANDS!